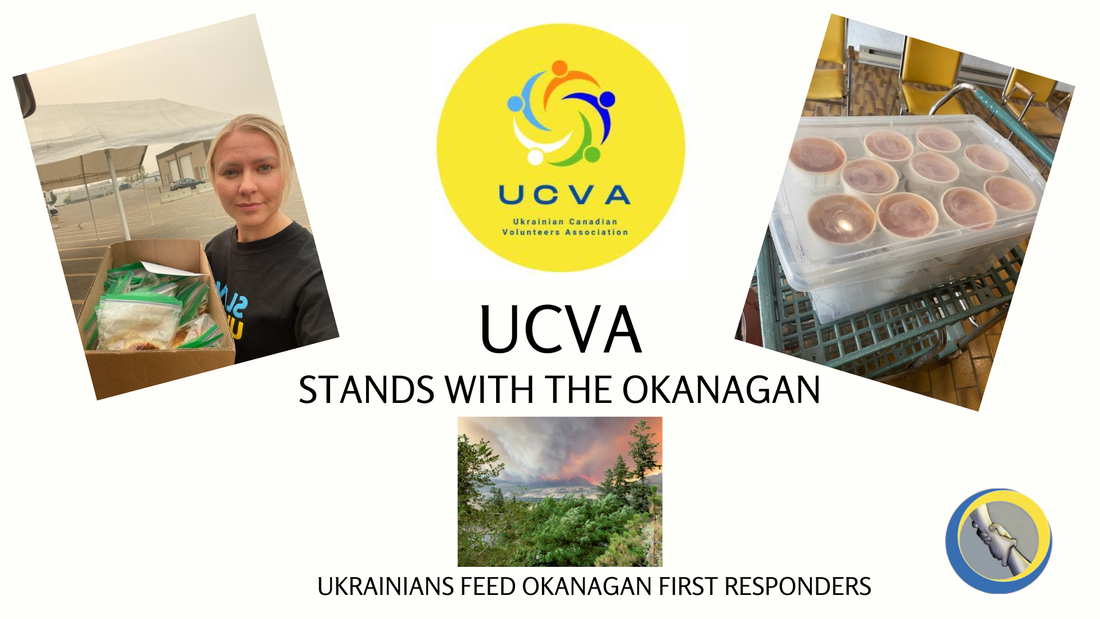 WHO WE ARE & WHAT WE DO
The Bravery Foundation is a Canadian CRA registered charity located in Kelowna, BC
We provide humanitarian aid to Ukraine and support displaced Ukrainians, refugees and volunteers serving in Ukraine


We issue tax receipts for

donations

$10 and over

​ ​
UKRAINE STANDS WITH THE OKANAGAN
Volunteers at Ukrainian Canadian Volunteer Association (UCVA) in the Central Okanagan have been busy cooking traditional Ukrainian food for frontline workers fighting the McDougall Creek Wildfire.
Svitlana Shkyn of UCVA reached out to Jeanne Legua of the Southern Interior office of the United Way British Columbia to find out how they could help. Legua connected Shkyn with Westside Salvation Army coordinator, Jennifer Henson. Together they created an action plan to cook and deliver 160 authentic Ukrainian meals that include borscht, nalysnyky (crepes) and fried stuffed buns to frontline first responders. Eight Ukrainian families participated in the preparation of the meals.
"The Ukrainian Canadian Volunteer Association is assisting Canadians in West Kelowna during a disaster by arranging and offering delightful Ukrainian lunches, including Ukrainian borscht and other delectable treats,"
said Shkyn.
Bonnie Penner of the
Bravery Foundation
, a Canadian CRA registered charity located in Kelowna, and Shkyn have worked collaboratively over the past year and a half to provide humanitarian aid to Ukraine and support displaced Ukrainians relocating in the Okanagan. It was only natural for Penner and Shkyn to connect and expand the grassroots movement of Ukrainians giving back to the community that has so generously supported them as they fled their homes in war ravaged Ukraine.
"We greatly appreciate all the support Ukrainian people get from the Canadian citizens. It is our time to pay back for all the great support we have received and continue to receive. That's what community is all about. When one gets in trouble, the others get together to help,"
said Shkyn.
Penner is coordinating 'Ukrainian Work Bees' to help with property clean-up for both the McDougall Creek Wildfire, Clifton/McKinley Fire and the Lake Country Wildfires. She is also spearheading other initiatives with local organizations so those who've experienced loss due the fires in the Central Okanagan, get the assistance they need.
"My family and I were evacuated in the 2003 Okanagan Mountain Fire, and keenly understand what our community is going through. 20 years later, we are here to assist in any way we can,"
said Penner.
Shkyn is the general manager at the Fairfield Inn & Suites by Marriott in West Kelowna and is grateful her employer provided UCVA volunteers space to organize meals for the first responders.
Donations to help pay for the ingredients for future meal preparation and other fire related initiatives can be made to UCVA by e-transfer to:
ucva.ua@gmail.com
If you are willing to help, have items or services to offer those who've lost so much during the 2023 Okanagan Firestorm, please fill out the below contact form. We will be happy to connect you with the organization that best fits your offer of help.
UKRAINE STANDS WITH THE OKANAGAN, is our way of giving back to those who've so generously given to Ukraine.
Facebook Group:
https://www.facebook.com/groups/672016557820311/?ref=share_group_link
(
Ukraine Stands With The Okanagan)

​TOGETHER we are stronger!