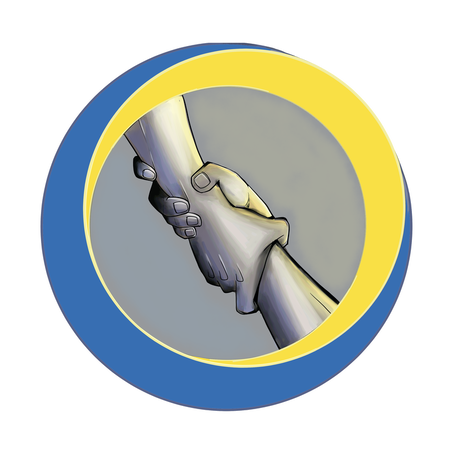 WHO WE ARE & WHAT WE DO
The Bravery Foundation is a Canadian CRA registered charity located in Kelowna, BC

We provide humanitarian aid to Ukraine and support displaced Ukrainians, refugees and volunteers serving in Ukraine




​We issue tax receipts for

donations

$10 and over

​
COMMUNITY, CONTRIBUTION, CONNECTION
UPDATE: July 22, 2023
​
Maksym and Natalia are loving the summer months off school. When they get too hot from the Okanagan sun, they go to a friend's house and cool down in their pool or play with their remote control vehicles. What they love the most though, is when they're invited to Ukrainian events so they can wear their traditional vyshyvanka shirts with their mama Ivanka!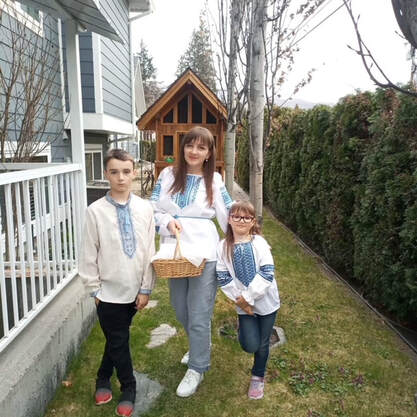 UPDATE: JANUARY 1, 2023
Ivanka and the children had a wonderful Christmas. They went sledding at one of the local hills and celebrated their first New Year in Canada. Ivanka is now fully independent, living on her own, working full time and supporting her two children. Ivanka's sister-in-law has made her way safely to Canada and is living with Ivanka and the children now.
Maksym and Natalia enjoy the school they are enrolled in and have made lots of new friends. Thank you Kelowna for welcoming our Ukrainian family with open arms and hearts!
​UPDATE: APRIL 23, 2022
Maksym and Natalia have started school and are loving it. Less than a week at their new school, the two children have made friends in their class and wake up in the mornings excited for the new day, Kelowna Capital News reporter Jacqueline Gelineau reports.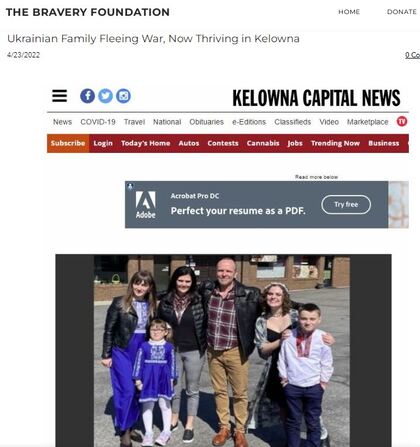 ---
OUR FAMILY
​
​​The
Bravery Foundation helped the first
displaced Ukrainian family
settle in Kelowna and we encourage others in our community to do the same.
Maksym is 9 years old and his sister Natalia is 6. Ivanka their mother fled Ukraine in early March of 2022 and arrived in Kelowna at the beginning of April 2022. Ivanka had been staying with a friend of a friend in Prague in a tiny one bedroom apartment that she and the children shared with 12 other people before they came to Canada. Nina
Typusiak, a family member and long term Kelowna resident,
helped Ivanka obtain the appropriate papers to enter Canada and let them live in her home until they were ready to move out on their own.
​
OUR COMMUNITY
Nina, seen in the below photo with one of her daughters and husband, is taking on a new role to help her Ukrainian relatives. She's raised funds to pay for their airfare to fly to Kelowna, but needed help setting them up in Kelowna, which is where the Bravery Foundation stepped in.
Through generous donations from the Okanagan community, Nina and our foundation were able to help Ivanka and the children get clothes, furniture, toys and so much more. We connected to them to the greater Ukrainian community and assisted in finding them a local church, employment and schooling for the kids. It was a team effort for sure, and we are thankful to everyone who helped!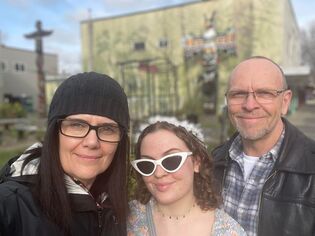 Many of you will know Nina, an early childhood educator and long term resident of Kelowna. Known as 'Teacher Nina' to many kids in the Okanagan over the past 23 years, including our Founder's children.
Nina facilitated a parent participation preschool program through the City of Kelowna for many years. She also taught at the Waldorf school, YMCA, Clubhouse, and Stepping Stones Preschool. Today, Teacher Nina is a
Métis Pedagogist with Métis Nation British Columbia.