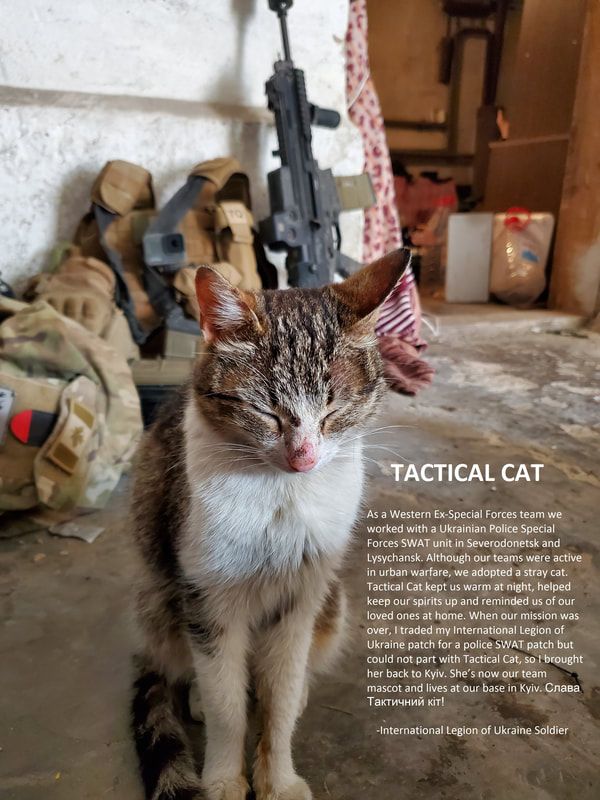 WHO WE ARE & WHAT WE DO
The Bravery Foundation is a Canadian CRA registered charity located in Kelowna, BC

We provide humanitarian aid to Ukraine and support displaced Ukrainians, refugees and volunteers serving in Ukraine
TACTICAL CAT
A group of International Legion of Ukraine Soldiers adopted a stray cat while on their mission in Severodonetsk and Lysychansk in June 2022. They named her 'Tactical Cat' and she became their team mascot.
"As a Western Ex-Special Forces team we worked with a Ukrainian Police Special Forces SWAT unit in Severodonetsk and Lysychansk. Although our teams were active in urban warfare, we adopted a stray cat. Tactical Cat kept us warm at night, helped keep our spirits up and reminded us of our loved ones at home. When our mission was over, I traded my International Legion of Ukraine patch for a police SWAT patch but could not part with Tactical Cat, so I brought her back to Kyiv. She's now our team mascot and lives at our base in Kyiv. Слава Тактичний кіт!"
- International Legion of Ukraine Soldier
​
In honor of all Tactical Cats and fellow cherished pets who get caught in war zones we've dedicated a page to them. Fill out our form below and tell us your pet's war rescue story and we will do our best to publish it on our website.